In Loving Memory
and in honor of:
PRECIOUS BUBBA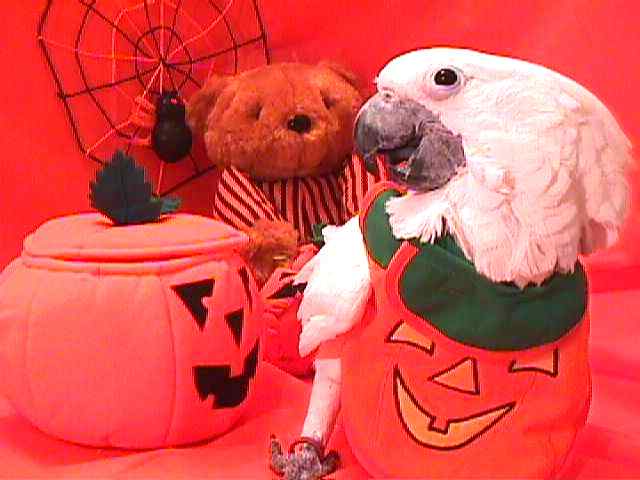 May you be touched as I was by the condolenscences sent by a talented cyber-friend
to another friend who tragically lost her gorgeous and absolutely lovable cockatoo pet "Bubba" ... Below is the poem ...
---
Roxanne,

When I was but a chick with naught but pins where feathers'd be
and sat in a cage alone and scared until you came and found me
and brought me home and raised me, treating me to tender tidbits
and cuddled and caressed me, soothing even if I bit.

When I was loud and obnoxious, how you delighted in my screams
cuz deep down inside you knew it meant I was at ease
In the comfort of your home, your arms, your eyes, and deep within your
heart I took solice in the knowing that this was my home and hearth

Other birds could scream their song but mine had meaning deep,
proclaiming for all to know and hear the love upon me you did heap
I proudly shake myself, fluff up and do the bappie dance
Gladly ever madly showing my affections at every chance.

You tenderly adored me even in my worst of times,
the care you lavished on me became legend in my mind
and when I was ill or not completely eased or full at rest
you made me tantamount, you made well, you are the best

And now I wing heavens birdie skies and scream my heartfelt rainbow song My wonderful Roxanne and hubby, you did nothing ever wrong
It may not have been my time, this I cannot know
But I am here waiting for you, for that day you choose to follow.

They know of you here, I've told them all what wonderful people that you be and when again we meet don't be surprised if you're bunked up with me Cuz when a feathered loved one like me finally roosts to come at rest
Its the joy of watching over you now that suits me all the best.

The angels try to fly with me and can't keep up I have to laugh
They just don't have the memory of the love that always lasts
And other birds are jealous when they hear of my magnificent life with you
Know in your heart and mind and soul, I'll always be your cockatoo.

(with all my sympathy and tears, god bless you and Bubba.....Larry W)
---
"The loss of a loved one is all the more tragic if nothing has been learned
from it"
Sibylle Faye
~Music~Final Fantasy~